Measuring Instruments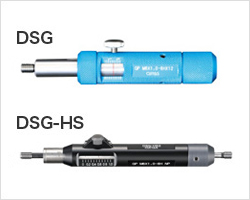 Thread Depth Gauge
with Graduation Scale
Stock item
It can inspect both pitch diameter and effective length of the threaded part of female screw thread of M2 to M18.
Since it can check two points measurement at the same time, it provides shorten measuring and production time at a reduced cost.
Standard type DSG and High spec type DSG-HS are available. DSG-HS is used for relatively deep holes and provides a precise readings.
To replace the gauge part to a different size or due to the wear occurred, a zero setting master and removing tool are available on sale.
Threaded Hole
Location Gauge CPG
Stock item
Supporting gauge CPG is used in measuring position of threaded holes and their pitch using CMM.
Thread plus gauge
with hex drill bit shank
You can check threaded holds by inserting the shank
part of gauge into the electric screwdriver.
It provides reductions of measuerment
time and workload.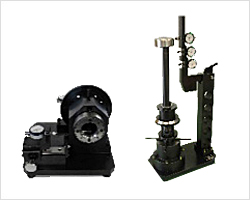 Inspection JIGs
Various inspection jigs are designed and manufactured to cope with each measuring items of geometrical tolerance of the products such as length, height, hole position, concentricity, runout, etc.